---
SE313B Alouette II 1116/27C
---
Historique - History
| | | | |
| --- | --- | --- | --- |
| Type : | Date : | Registration : | Owner/Operator/History : |
| SE-3130 | 10-1957 | F-WIEP | mfd at La Courneuve |
| SE-3130 | 1957 | F-WIEP | first flight at Le Bourget |
| SE-3130 | 1957 | F-BIED | Union Générale du Cinéma; rgd; opf Les Films Montsouris |
| SE-3130 | 10-12-1957 | F-BIED | Union Générale du Cinéma; CofA delivered |
| SE-3130 | 1959 | F-BIED | Caliop, Paris; rgd |
| SE-3130 | | F-BIED | Caliop; opf Les Films Montsouris during two bicycle races "Tour de France" |
| SE-3130 | 1960 | F-BIED | Caliop; used in movie "Tout l'or du monde" |
| SE-3130 | 1963 | F-BIED | Héli-Union, Paris; rgd |
| SE-3130 | 07-05-1963 | F-BIED | Héli-Union; CofA suspended |
| SE-3130 | 1969 | F-BIED | Héli-Union; remanufactured |
| SE-3130 | 1969 | F-BIES | Héli-Union; re-rgd |
| SE-3130 | 05-06-1969 | F-BIES | Héli-Union; CofA delivered |
| SE-3130 | 1972 | F-BIES | Héli-Union; opf Agip Mineraria in Mauritania |
| SE-3130 | | F-BIES | Héli Bretagne |
| SE-313B | 06-10-1987 | F-BIES | Héli Bretagne; crashed at Rennes |
| SE-313B | 16-10-1987 | F-BIES | CofA suspended |
| SE-313B | 1988 | F-BIES | wreck noted at Lorient |
| SE-313B | 1990 | F-BIES | wreck still noted at Lorient |
| SE-313B | 26-08-1996 | F-BIES | reg cld |
---
Photos - Pictures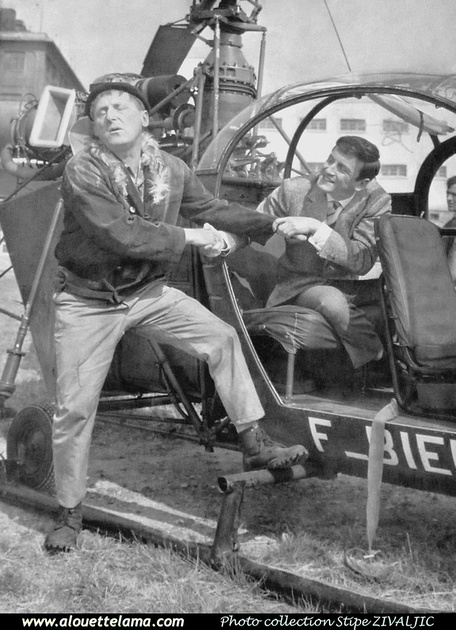 F-BIED Eurocopter (Aérospatiale) SE3130 Alouette II MSN 1116 France - 1960 - Photo Stipe Zivaljic collection.
Plus de photos - More pictures
---
---
Dernière mise à jour/Last update : 07-06-2014. L'usage des logiciels Firefox ou Safari est recommandé. The use of Firefox or Safari browsers is recommended.
© Pierre GILLARD.