Du fait de sa situation géographique en région montagneuse, l'Armée Autrichienne a toujours été dotée d'une importante composante de voilures tournantes. Grâce à leurs extraordinaires
aptitudes au vol en montagne, les Alouette II, puis les Alouette III se sont imposées comme des hélicoptères très polyvalents pouvant accomplir de nombreuses tâches tant au profit des militaires que de la population civile.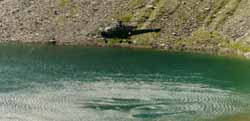 En stationnaire au-dessus d'un petit lac de montagne.
Just for the picture, the Alouette is hovering over a small mountain lake.
Photo Pierre GILLARD.
Outre les missions militaires classiques, les Alouette III du Hubschrauberstaffel 2, toutes regroupées sur la base de Aigen-im-Ennstal, effectuent du secours aérien sous le nom de "Christoph" et sont régulièrement mises à contribution lors de catastrophes ou accidents graves dont l'Autriche semble fort accablée
de ces temps-ci.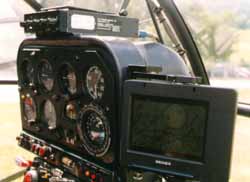 GPS avec carte électronique Becker Scout.
Becker Scout GPS and Moving Map Display.
Photo Pierre GILLARD.
Une autre mission particulière est la surveillance de la frontière avec la Hongrie suite aux accords de Schengen dont l'Autriche fait partie. Pour cette mission, deux Alouette III ordinairement basées à Aigen sont détachées sur le petit terrain de Punitz. Ces hélicoptères sont équipés d'une caméra multisenseur gyrostabilisée ainsi que d'un phare de recherche. Ces missions de patrouille s'effectuent de jour comme de nuit en VFR.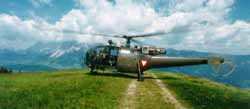 Atterrissage sur un chemin de montagne. A l'arrière-plan, la chaîne des Dachsteingruppe.
A more comfortable landing on a mountain track.
Photo Pierre GILLARD.
Vu l'allocation d'un budget important pour l'acquisition d'hélicoptères mi-lourds par l'Autriche, aucun remplacement n'est actuellement envisagé pour les Alouette III.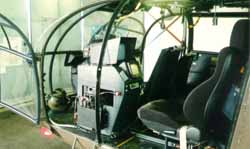 Vue de la console spéciale du contrôle du FLIR. A noter aussi le siège type "Honda CRX" !.
A FLIR system is used for border patrol flights.
Photo Pierre GILLARD.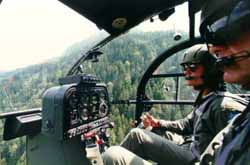 L'Oberleutnant Dietmar Adamietz aux commandes de l'Alouette III "Kilo Uniform".
Oberleutnant Dietmar Adamietz heading his Alouette between mountains.
Photo Pierre GILLARD.
Due to its location in mountainous area, Austrian Armed Forces has always been equipped with an important number of rotary wing aircraft. Thanks to their extraordinary abilities in high altitude flights, Alouette II's, and Alouette III's later, have asserted themselves as versatile helicopters able to cope with a lot of tasks either for the military or for the civilian people.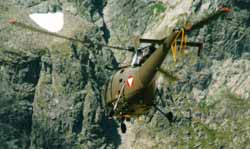 L'Alouette, toute petite dans l'environnement minéral des montagnes du Schladminger Tauern.
The Alouette facing a rocky cliff of the Schladminger Tauern Mountains.
Photo Pierre GILLARD.
Besides usual military missions, Aigen-im-Ennstal based 2nd Hubschrauberstaffel's Alouette III's are also performing rescues and EMS under the name of "Christoph". They are regularly called to give help during catastrophes or important accidents, which seems to distress Austria these last years.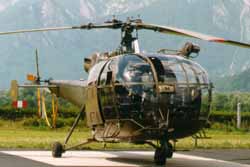 L'Alouette 3E-KM prête pour une nouvelle mission.
"Kilo Mike" ready for another mission.
Photo Pierre GILLARD.
Another special mission is Hungarian border patrol according to the Schengen countries agreement in order to avoid the income of illegal immigrants. For that duty, two Aigen based Alouette III's are permanently dispatched on the small airfield of Punitz. These helicopters are equipped with a FLIR and a searchlight. Patrol missions take place both during day and night under Visual Flight Rules.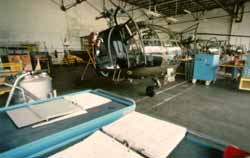 Atelier de maintenance du Fliegerwerft d'Aigen.
Workshop of the Fliegerwerft Aigen.
Photo Pierre GILLARD.
Due to a heavy investment for mid-sized transport helicopters accomplished by Austria, no immediate replacement for the Alouette III's is foreseen at the moment.