La dernière Alouette II opérationnelle de la Gendarmerie Belge a effectué son dernier vol en octobre 2000 après 32 années de service. Tout comme pour cinq autres appareils du même type, elle fut acquise par le corps de police nationale belge en même temps qu'un contrat passé pour une seconde tranche d'Alouette II destinées à la Force Terrestre.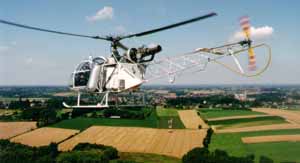 L'Alouette G93 lors de la répétition du défilé aérien le 20 juillet 2000 dans les environs de Grimbergen.
G93 captured nearby Grimbergen.
Photo Pierre GILLARD.
Les six hélicoptères furent assemblés par la SABCA à Gosselies et furent testés en vol par Jean-Jacques MANS avant d'être livrés à la Gendarmerie.
Jusqu'en 1993, les Alouette de la Gendarmerie ont été intégrées aux effectifs de l'Aviation Légère de la Force Terrestre. Par après, les cinq appareils survivants furent regroupés au sein du Détachement d'Appui Aérien ( Luchtsteundetachement en néerlandais ) et opérés de manière autonome par la Gendarmerie au départ de Melsbroek.
Même si pour chaque heure de vol, deux heures de maintenance étaient nécessaires, il semblerait que travailler sur une Alouette fut malgré tout un plaisir à la Gendarmerie Belge.
Even if the Alouette was requiring a lot of maintenance, it seamed that it was still a pleasure to work on it !
Photo Pierre GILLARD.
Au cours de leur existence, les Alouette ont été principalement utilisées pour des missions d'observation et de surveillance du trafic routier. Un hélicoptère a été malheureusement perdu peu de temps après sa livraison. Il s'agissait de l'Alouette A91 ayant percuté une ligne à haute tension.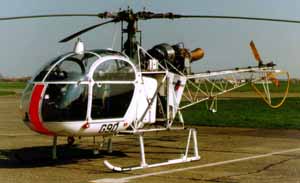 Au terme de sa carrière à la Gendarmerie l'Alouette G90 a été donnée à un lycée technique d'Ostende.
A90 pictured with the first logo at its base of Melsbroek.
Photo Pierre GILLARD.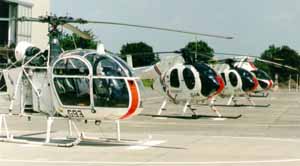 Les Alouette ont été remplacées par du matériel américain plus moderne ... tant pis pour l'esthétique !
Notar helicopters have completely succeeded to the Alouettes ... hoping that their reliability will reach that of their predecessors !
Photo Pierre GILLARD.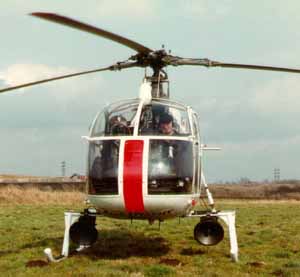 La G92 avec ses haut-parleurs W&G vue à Saint-Ghislain.
G92 noted at Saint-Ghislain with its W&G loudhailers.
Photo Pierre GILLARD.
The last operational Alouette II of the Belgian Gendarmerie has accomplished its last flight in October 2000 after a 32-year career. Together with five other similar aircraft, it was acquired by the national Gendarmerie at the same time as a contract for a second batch of Alouette II's intended for the Belgian Army.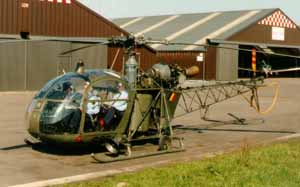 L'Alouette G95 sera la seule Alouette de la Gendarmerie à avoir gardé sa peinture militaire d'origine ainsi que les patins bas.
G95 will remain the only Alouette of the Gendarmerie to wear its original Army color scheme and its low skids..
Photo Pierre GILLARD.
The six helicopters were assembled at the SABCA factory of Gosselies and were all flight tested by Jean-Jacques MANS prior their delivery to the Gendarmerie.
Till 1993, The Alouettes of the Gendarmerie were integrated in the Army's Light Aviation inventory. Later, the five remaining aircraft were based at the Melsbroek established Gendarmerie newly formed Air Support Unit.
The principal missions of the Alouettes were aerial observation and road traffic patrol. One of the helicopters ( A91 ) was lost after a collision with a power line no longer after its delivery.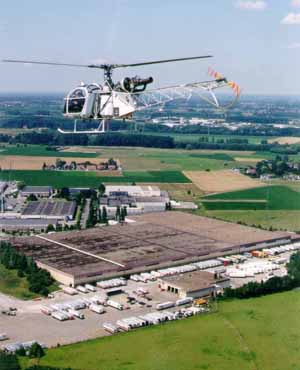 L'Alouette était un appareil idéal pour l'observation grâce à sa visibilité extraordinaire.
With its exceptional outside view, the Alouette II was the perfect tool for observation.
Photo Pierre GILLARD.