Treuillage d'un blessé sur civière par l'Alouette du détachement SAR de Waterford.
An injured person is winched on the stretcher by the SAR crew of Waterford Detachment.
If you ever to name Irish Air Corps' most versatile aircraft, the Alouette III would probably be at the top of the list.
As a matter of fact this strong French manufactured helicopter accomplishes a wide variety of tasks since the delivery of the first ship ( No 195 ) that took place on November 25, 1963.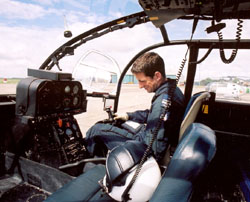 Le Lieutenant Niall Buckley se prépare avant un vol d'entraînement en montagne. L'avionique, bien qu'étant moderne et de qualité, ne permet toutefois que le vol VFR.
Lieutenant Niall Buckley performs pre-flight checks prior a training sortie. The IAC's Alouettes are allowed for VFR flights only even if avionics is recent and of quality.
Every day the seven Alouettes of 3rd Support Wing demonstrate their versatility for rescue missions either in the mountains or along the Irish shores as well as for cargo or personnel transports.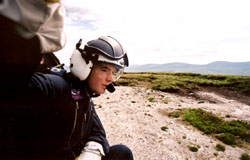 Lors de chaque atterrissage, le mécanicien de bord assiste le pilote en l'informant des obstacles situés à proximité de l'hélicoptère.
Flight Engineer is the pilot's forward looking eyes for every landing.
The seven of eight originally delivered Alouette III's ( No 202 was damaged in a accident ) are based at Baldonnel, which is Ireland's main military airfield. It is located close to Dublin's western suburbs. However a SAR Detachment still subsists at Waterford. It is made of an Alouette with its crew but should be soon replaced by a Government contracted civilian helicopter.
Even if Irish Air Corps should get some medium-lift helicopters in the near future, no definitive withdrawal is foreseen today for the appreciated Alouette III's.