L'Armée de l'Air Française a été dans le passé une grande utilisatrice tant d'Alouette II que d'Alouette III. Actuellement, seulement trois SA-319B Alouette III Astazou sont encore en service actif au sein de l'EH 03/067 "Parisis" de Vélizy-Villacoublay. Ces trois appareils sont équipés du système de détection infrarouge gyrostabilisé Chlio.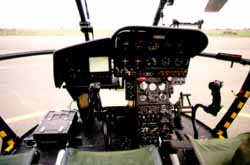 Equipement Chlio installé dans l'Alouette III.
Monitor, VCR and controls of the Chlio system in the Alouette III.
Photo Pierre GILLARD.
Leur rôle principal est la mission MASA de nuit, ou Mesures Actives de Sûreté Aérienne. Depuis les tribulations nocturnes du fameux "Baron Noir" au-dessus de Paris, la Force Aérienne de Projection ( ex-COTAM ) a reçu depuis 1989 la mission de mise "sous bulle de protection" de tout évènement d'importance, que ce soit un sommet politique international, une manifestation de foule ou le Salon du Bourget, ceci dans le but d'intercepter tout aéronef qui se montrerait menaçant pour l'organisation de cet évènement.
Si les missions diurnes sont exécutées par les Eurocopter AS555UN Fennec, les missions nocturnes sont toujours effectuées par les Alouette III de l'EH 03/067 car ce sont les seuls hélicoptères légers de l'Armée de l'Air à être équipés d'un système de détection infrarouge gyrostabilisé ( FLIR ).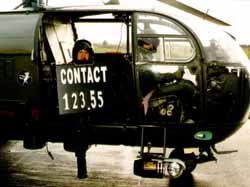 Panneau lumineux d'injonctions.
Lighted message panel intended for intercepted aircraft.
Photo Pierre GILLARD.
Le système Chlio est composé d'une caméra infrarouge montée dans une boule gyrostabilisée, elle-même installée sur le nez de l'Alouette. A l'intérieur de l'hélicoptère, l'opérateur dispose d'un écran monochrome, d'un minimanche de contrôle ainsi que de quelques boutons de réglage. Un magnétoscope permet d'enregistrer les images captées tandis que plusieurs boîtiers électroniques complètent le système.
L'équipage est toujours constitué de quatre personnes : un pilote, un opérateur Chlio ( qui est également un pilote ) et deux tireurs d'élite. Ces derniers disposent d'un panneau lumineux permettant d'afficher des injonctions à un aéronef intercepté ainsi que de deux fusils leur permettant de tirer tant des coups de semonce que de destruction.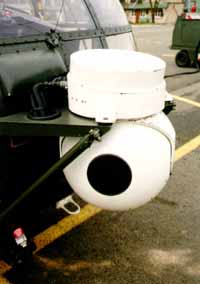 La "boule Chlio" sur le nez de l'Alouette III.
The Chlio's "ball" on the nose of the Alouette III.
Photo Pierre GILLARD.
A terme, les trois dernières Alouette III devraient être remplacées par les Fennec lorsque ceux-ci auront reçu un système de détection infrarouge moderne. Mais, àce moment-là, on devrait être vers 2003-2004.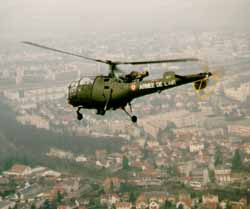 L'Alouette 2029 en patrouille MASA.
67-CE patrolling in the outskirts of Paris.
Photo Pierre GILLARD.
The French Air Force ( "Armee de l'Air" ) has operated a lot of Alouette II's and Alouette III's in the past. Nowadays, only three SA-319B Alouette III Astazou helicopters are remaining on active duty at the EH 03/67 "Parisis" Squadron which is established at Velizy-Villacoublay, near Paris. Those three aircraft are equipped with the "Chlio" FLIR system.
Their main task is the night MASA mission ( "Mesures Actives de Surete Aerienne" or Air Security Active Action ). Since 1989, the "Force Aerienne de Projection" ( Projection Air Force ) has been asked to place every important event such as international political meetings, mass demonstrations or the Paris Air Shows under a "protected dome" in order to prevent undesired aircraft to come over the event and to threaten it.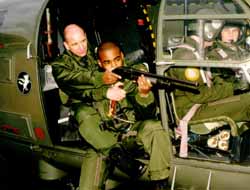 Equipe de tireurs d'élite du CPA 20..
Snipers on board the Alouette III.
Photo Pierre GILLARD.
If day MASA missions are performed by the Squadron's Eurocopter AS555UN Fennecs, when comes the night, it is the time of the Chlio Alouette III's because they are the only FLIR equipped light helicopters available in the Air Force's inventory.
The Chlio system is made of an IR sensor camera that is placed in a nose mounted gyrostabilized "ball". The means at the operator's disposal inside the helicopter are a monochrome monitor, a mini control stick and some other control buttons and switches. A video cassette recorder allows to record images of the FLIR and some further electronic boxes complete the system.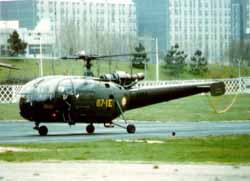 Dans le passé, le 3/67 utilisait l'Alouette III pour des
missions VIP comme celle-ci vue à Issy-les-Moulineaux.
Previously, the EH 03/067's Alouette III's were also
operated for VIP duties.
Photo Pierre GILLARD.
Crew is always made of four : the pilot in command, the FLIR operator ( who's also a pilot ) and two snipers. These two have a lighted panel that they use to show orders to an intercepted aircraft. They also have two riffles in order to fire both flares and destruction munitions.
The old but reliable remaining three Alouette III's should be replaced by Fennecs as soon as they get a modern suited FLIR system. But this should not occur prior 2003.