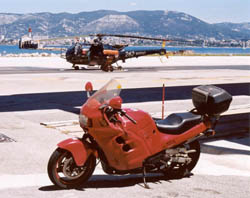 "Top Gun" à Saint Mandrier !
French version of "Top Gun" !
Photo Pierre GILLARD.
People at 35F are always on the move. Sometimes they are on a ship far from home or at other times they are dispatched to a detachement in France or somewhere else.
The fleet of this flotilla is made of SA319B Alouette III's and of Dauphin 2's. It is permanently spread all over the World on several continents at the same time. Its helicopters are usually deployed on board Marine Nationale's ships or aircraft carriers. Its main base is Saint Mandrier close from Toulon on the southern shore of France but it should move to nearby Hyères airfield in the near future.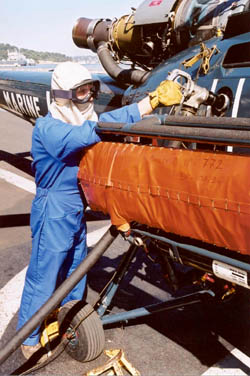 A la Marine, les avitaillements en carburant sont toujours entourés de mesures de sécurité importantes.
An Alouette gets its fuel load in a high level of security environement.
Photo Pierre GILLARD.
35F was formed on Ocober 1st, 1999, with the elements of Saint Mandrier's disbanded 33F Flotilla and 23S Squadron. At that time, 35F was also equipped with the heavy three-engined SA321G Super Frelon inherited from 33F that it operated alonside its other Alouettes and Dauphins. But these outsized helicopters were later transfered to other units.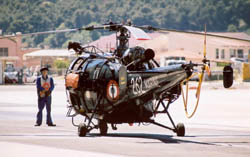 La "262" prête pour une mission.
Alouette "262" is ready for another mission.
Photo Pierre GILLARD.
Flotilla 35F already had a first existence in the past between January 11, 1979, and October 1st, 1998. It was then formed on the elements of the Helicopter Section of the helicopter-carrier "Jeanne-d'Arc". Its fleet was made of the Alouette III but also of the Lynx. If it was based at Saint Mandrier at the origin, it later moved to Lanvéoc-Poulmic in Britanny in 1994 and added the Dauphin and the Panther in its inventory. Not less than 12 worldwide detachements were supported by Flotilla 35F during 1995.