Photo Pierre GILLARD.
Air Green est une des principales compagnies exploitant des hélicoptères en Italie. Elle fut fondée en 1985 par les frères Mauro et Giuseppe Airaudi. La base principale d'Air Green est située à Robassomero, tout près de Turin. La flotte actuelle est composée principalement de sept Lama, mais aussi de deux Ecureuil, d'une Alouette III, d'un EC135, de trois AB-412 et d'un petit R22.

Le Lama I-PATI posé près d'un chantier.

I-PATI in a confined area close from a work site.

Photo Pierre GILLARD.

Air Green is one of the most important helicopter companies in Italy. It was founded in 1985 by the brothers Mauro and Giuseppe Airaudi. The main base is located at Robassomero close from Torino. Today, the fleet is essentially made of seven Lamas, but also of two Ecureuils, one Alouette III, one EC135, three AB-412's and one small R22.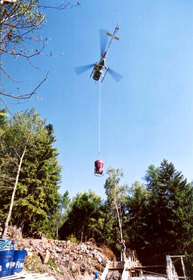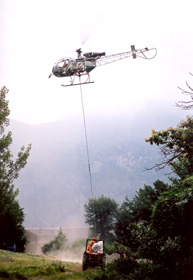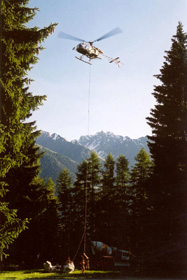 L'essentiel du travail aérien effectué à l'aide du Lama de Saint Denis utilise la technique de la longue élingue.
Most of the works completed with the Saint Denis based Lama are long-line operations.
Photos Pierre GILLARD.
Pour faire face à la demande en levage, en ravitaillement de refuges en haute montagne ou en contrôle et montage de lignes à haute-tension dans le Val d'Aoste, un Lama d'Air Green est basé en permanence à Saint Denis. Une dynamique équipe sur place, bien équipée en matériel radio et en véhicules de soutien technique, assure les opérations locales avec un très haut niveau de professionnalisme.

La sympathique équipe d'Air Green à Saint Denis .

The professional team of Saint Denis based Lama.

Photo Pierre GILLARD.

Alessandro Tommasi : un pilote doué d'un grand calme ; un atout en travail aérien.

Alessandro Tommasi at the controls of his favourite helicopter : the Lama !

Photo Pierre GILLARD.

An Air Green's Lama is permanently based at Saint Denis in Aosta Valley to cope with local sling load operations, mountain refuge supplies or electricity works. A well equipped dynamic and professional staff is in charge of running the base and the helicopter.
Ne manquez pas de visiter le site Internet de la compagnie Air Green ( rubrique "liens" ).
Please visit Air Green's website ( "Links" section ).