Lorsque vous parlez de Malte à quelqu'un, bien souvent vous pourrez observer des yeux en forme de points d'interrogation chez votre interlocuteur. En effet, Malte, située au centre de la Mer Méditerranée et non loin de la Sicile, est très peu connue et pourtant recèle beaucoup d'attraits, ne fut-ce que pour la plongée sous-marine. Trois îles font partie du territoire maltais : Malte ( avec sa capitale La Valette ), Gozo et Comino.
Depuis 1972, les Forces Armées de Malte ( AFM ) disposent de leurs propres moyens aériens, à savoir essentiellement des surplus des armées Allemande et Italienne. La Libye participa aussi à une certaine époque à la défense des îles ainsi qu'aux missions SAR avec un détachement d'hélicoptères Alouette III et Super Frelon. Un AB-206 Jet Ranger fut également cédé par le Colonel Kadhafi.
Suite à un incident diplomatique en 1981, les Libyens quittèrent Malte mais laissèrent derrière eux sur la base de Luqa leurs trois Alouette III. Les Italiens prirent ensuite le relais des Libyens essentiellement pour les missions SAR.
Le 11 juin 1991, les autorités libyennes cédèrent officiellement les trois Alouette III à l'AFM. Immédiatement, elles furent envoyées par la route à Marignane pour une révision générale. A leur retour de France en 1992 et 1993, elles furent mises en service pour les missions SAR. Ces hélicoptères sont parfaitement équipés pour la mission : flottabilités de secours, treuil, réservoir supplémentaire et avionique étendue font partie du lot.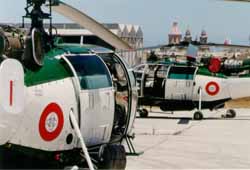 Deux des trois Alouette III cédées à l'origine par la Libye.
Two of the three ex-Libyan Alouette III's operated now by the AFM.
Photo Pierre GILLARD.
Le 8 octobre 1996, deux Alouette III supplémentaires sont présentées à la presse. Elles ont été acquises auprès de la Force Aérienne Royale Néerlandaise. Depuis ce moment, ces deux hélicoptères sont en charge des vols de liaison au profit des autres unités de l'AFM ainsi que des vols médicaux au-dessus des trois îles ( ces hélicoptères ne disposent pas de flottabilités de secours ).
Depuis le 1er mai 2000, l'ensemble de la flotte militaire maltaise a reçu de nouveaux codes militaires. Avant cette date, tous les aéronefs portaient des immatriculations civiles.
Entraînement au treuil dans l'anse de Marsaskala.
Hoist exercice in the Marsaskala Bay.
Photo Pierre GILLARD.
If you are talking with someone about Malta, you will often discern question marks in his eyes. As a matter of fact, Malta, which is located in the middle of the Mediterranean Sea close from Sicily, is not well known even if it is attractive for scuba diving for instance. Malta ( with the capital Valletta ), Gozo and Comino are the three islands that are forming the Maltese territory.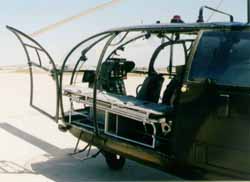 Une Alouette III équipée "médévac".
"Medevac" equipment for the Alouette III.
Photo Pierre GILLARD.
Since 1972, Armed Forces of Malta ( AFM ) owns their own aircraft essentially made of surplus offered by German and Italian armies. Once, Libya participated to the islands defence and to the SAR missions with a detachment made of Alouette III and Super Frelon helicopters. An AB-206 Jet Ranger was also offered by Colonel Gaddafi.
After a diplomatic dispute, which occurred in 1981, Libyans departed Malta but left the three Alouettes behind them at Luqa air base. Italians took then the relay mostly for SAR missions.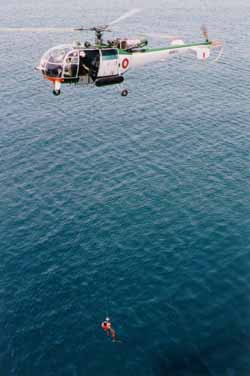 Trois Alouette III sont équipées pour le sauvetage en mer.
The AFM's Alouette III's are perfectly equipped for rescue at sea.
Photo Pierre GILLARD.
Libyan authorities yielded officially the three Alouette III's to the AFM on June 11, 1981. They were immediately trucked to Marignane for overhaul. When back from France in 1992 and 1993, they were put into service for SAR missions. Those helicopters are perfectly suited for the mission : emergency floats, hoist, auxiliary fuel tank and state of the art avionics are in the equipment list.
Two further Alouette III's were officially displayed to the press on October 8, 1996. They were acquired from the Royal Netherlands Air Force. Since then, they are in charge of liaison flights for other AFM's units as well as EMS on the three islands ( those aircraft are not equipped with emergency floats ).
Since May 1st, 2000, all the AFM's fleet has been military coded. As a matter of fact, all aircraft were previously registered with the civilian marks.