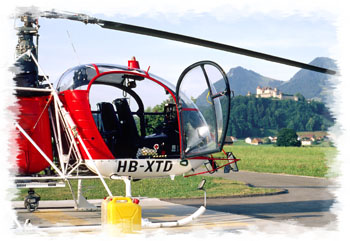 Le Lama HB-XTD affecté à la base d'Heliswiss Gruyères .
Lama HB-XTD of Heliswiss Gruyeres is ready for an early morning flight.
Photo Pierre GILLARD.
La compagnie Heliswiss existe depuis plus de 50 ans et s'est taillée une réputation enviable, notamment dans le secteur du travail aérien tant en Suisse qu'à l'étranger. Sa base principale est établie à proximité de l'aéroport de Bern-Belp, mais elle dispose aussi d'une base à Gstaad-Grund et d'une autre à Gruyères. Elle opère une vaste gamme d'hélicoptères s'étendant du Schweizer-Hughes 300 au Kamov Ka.32. La base de Gruyères est généralement dotée d'un Hughes 300C, d'un Bell 206B Jet Ranger, d'un Eurocopter Ecureuil B3 et d'un Lama lui permettant de proposer une grande gamme de services à sa clientèle.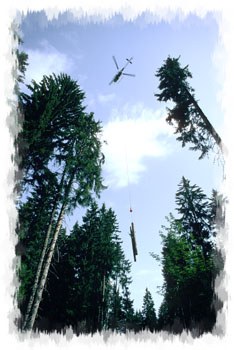 Le débardage est une des missions régulièrement accomplies par le Lama d'Heliswiss Gruyères.
Long line logging is one of the most common tasks performed by Heliswiss Gruyeres' Lama.
Photo Pierre GILLARD.
Depuis 1973, année d'acquisition du HB-XDZ ( No. 2349, actuellement HB-XGP chez Air Glaciers ), Heliswiss est toujours restée fidèle au Lama. Il faut dire que certains entrepreneurs sont habitués à travailler avec ce type d'hélicoptère et insistent auprès de la compagnie pour continuer avec celui-ci.
Chez Heliswiss, comme pour la majorité des compagnies helvétiques opérant ce modèle d'hélicoptère, le Lama est utilisé essentiellement pour des opérations de levage.